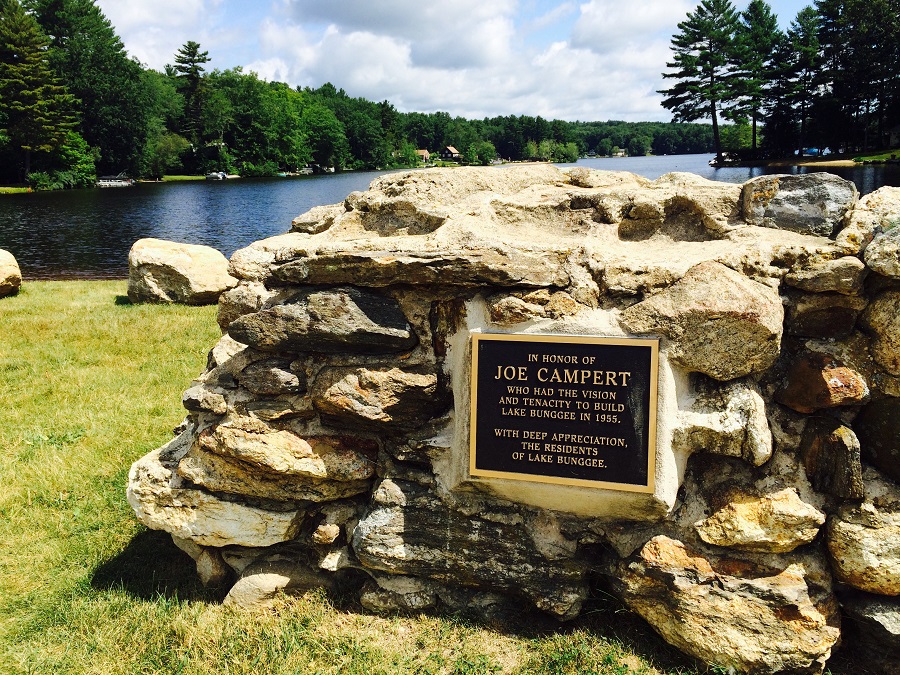 Welcome!
The Lake Bunggee Flood & Erosion Control and Tax District is a private community of approximately 400 properties located in Woodstock, Connecticut. The Tax District is managed by a Board of Directors who are duly elected each year in May by the property owners of the district.
The District phone number is 860-974-2819
The District mailing address is P.O. Box 231, Woodstock, CT 06281
Individual board members may be contacted by e-mail by sending a message using the "Contact the Board" portion of this website.
The next regular monthly meeting of the Board of Directors will be held Monday April 19, 2021, at 7:00 pm via Zoom.
The agenda and Zoom log-in information will be published in the week prior to the meeting.

Due to COVID-19 virus restrictions, we will not hold board meetings at the West Woodstock Library until further notice.
All LBTD property owners are welcome.
On Monday holidays, and some other dates, or because a planned meeting space may not be available, the date and/or location may be changed. If you are planning to come to a board meeting, check here the day of the meeting for any changes.
New! Online Motorboat Registration Form
Please visit the Forms page to access a new "fillable form" online for your 2021 boat registrations! Both the online and paper forms are updated for this year, and both require a copy of your Safe Boating Certificate.
ATVs, Dirt Bikes Not Allowed on Lake Roads
At its meeting March 15, the Board of Directors approved updated language for Rules & Regulations #28, Use of Recreational Vehicles. Rule 28 has not changed, but has been clarified. ATVs, snowmobiles, dirt bikes and golf carts are not allowed on lake roads at any time. Complete language for Rule 28 can be found on the Rules & Regulations page.
Note: Connecticut law requires that all-terrain vehicles (ATV) operated in Connecticut must be registered, unless the vehicle is being operated on property owned or leased by the owner of the ATV. Read the full requirements here:
https://portal.ct.gov/DMV/Registration/ATV-Registration-Requirements
3/4/2021 Minutes, 3/15/2021 Recording
Draft minutes of the board's March 4 Special Meeting can be found on the Board Communications page, alongside the recording posted previously. The recording of the board's regular meeting March 15 is also available there. Draft minutes of the March 15 regular meeting and March 30 Special Meeting will be posted shortly.
Board Elections May 1
Updated 3/30/2021
The 2021 spring Bi-annual Meeting will be held Saturday May 1 at 9:30 am. The meeting will be held at Woodstock Middle School. Details of simultaneously providing Zoom access are TBD.
Elections for members of the Board of Directors will be part of the meeting. Deadline to declare an intent to run was April 1. Here is the list of who is running:
President: Interim President Juliet Hansen will run.
Vice President: Interim Vice President Jen Beams wil run.
Treasurer: Treasurer Deb Hervieux will run.
Tax Collector: Tax Collector Katie Rogala will run.
Clerk: Clerk Burt Hansen will run.
Building/Zoning and Planning: No declared candidate.
Roads: Roads Chair Greg Favreau will run.
Lake & Beaches: No declared candidate.
Compliance: Interim Compliance Chair Kathy Ellison will run.
Thank you, Dennis!
Lake and Beaches Chair Dennis Comprone has made a decsion to move to Maine... partly to be able to have lake and ocean fishing! Dennis has been a valued member and friendly presence on the board, and has done a lot of good work on our beaches and the dam and gate. Thank you, Dennis - we'll miss you!
---
©2021 Lake Bunggee Tax District
Lake Bunggee Tax District: P.O. Box 231, Woodstock, CT 06281
A
Bold & New
site